"We make your dreams a reality"
South-Side Lawn & Landscape is a design/build/maintenance company serving the Colorado area since 1996.

South-Side Lawn & Landscape was established in 1996. We measure success by the satisfaction of our customers. Accountability and Ethics are attributes considered to be a part of our success. To achieve satisfaction, we put emphasis on Quality, Customer Service, and Industry Leadership. Putting many hours into our employees, training, execution, safety and equipment allows us to achieve superior results and greater customer satisfaction. South-Side's team members are chosen based on experience, attitude, and work ethic, delivering consistent quality time and time again. Customer service is our cornerstone. Our commitment is to respond in a timely manner to any problems that may arise.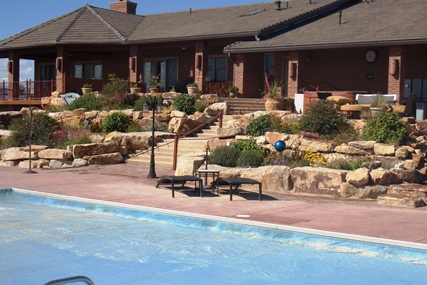 Maintenance Services we offer: Commercial, Industrial, Residential

· Complete property care/maintenance

· Weekly mowing

· Aeration

· Power Raking

· Weekly Property Clean ups (ie. Gutters, leaves, trash, cigarettes butts, etc.)

· Shrub/Tree trimming and dead heading

· Weekly or Bi-Weekly perennial & annual flower gardening/weeding

· Weed control (Spraying, mowing)

· Fertilization programs/regiments

· Christmas Lighting

· Snow removal

Our landscape services are limitless in many categories. South-Side Lawn & Landscape strives in continuing education for our leaders and employees. During our off season we are attending many classes and forums to help keep us informed of new ideas, topics, and industry news. In turn helping us better serve and inform you as our client. We have won numerous awards for our custom residential landscape designs and installations. Listed below is a short list of our landscaping services.

Ø Design services

Ø General landscaping

Ø Patios and porches (pavers, stone, concrete)

Ø Outdoor nooks, retreats, and kitchens

Ø Intricate perennial planting using Western Native plants

Ø Water features
Some of our projects include:

-Colorado College/Slocum Hall Renovations-COlorado Springs, CO

-Lake Avenue Street Improvements Phases I & II- Pueblo, CO

- Abriendo/Broadway streetscape-Pueblo, CO

-CDOT Pueblo Blvd. & Thatcher intersection-Pueblo, CO

-Sanford Elementary School-Sanford, CO

-Peterson Air Force Base, Child Development Center-Colorado Springs, CO.

-Bessemer Historical Society-Pueblo, CO

-Santa Fe 5th & 6th street intersections-Pueblo, CO

-Lake Avenue Street Improvements-Pueblo, CO.

-Main Street Tree Project-Pueblo, CO

-Median Islands Hwy. 78-Pueblo, CO

-Riverwalk Gateway Project Phase III-Pueblo, CO

-Parking Garage-Pueblo, CO

-Pueblo County Health Department-Pueblo, CO

-Union Gardens (east of library)-Pueblo, CO

-1st & Main Street Fountain-Pueblo, CO

-Spanish Peaks Regional Health-Walsenburg, CO

-Zapata Falls Camp Ground-Blanca, CO

-Bent County Health Center-Las Animas, CO

-Walgreens Pharmacy-Canon City, CO

-State Veterans Nursing Home-Florence, CO

-Manitou Streetscape Phase III-Manitou Springs, CO

-Skyway Living Center-Colorado Springs, CO

-Fountain Elementary School-Fort Carson, CO



Client satisfaction and our integrity is very important to

South-Side Lawn & Landscape.
We accept and appreciate comments on our work.